Charitable Gift Annuity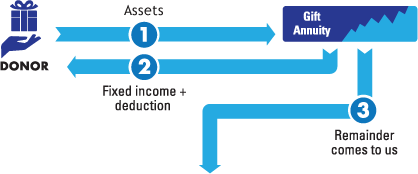 How It Works
You transfer cash or securities to BrightFocus Foundation and/or its

program(s)

. Our suggested minimum gift requirement is $10,000.
BrightFocus* pays you, yourself and a spouse, or any two beneficiaries you name, fixed income for life.
Beneficiaries are recommended to be at least 60 years of age at the time of the gift.
The remaining balance, after the annuitant has passed away, will be applied to BrightFocus Foundation and/or its

program(s)

you stipulated when you signed the annuity contract.
Benefits
Receive dependable, fixed income for life in return for your gift.
In many cases, receive payments at a rate higher than the interest you are currently receiving from stocks, CDs, or savings accounts.
Receive an immediate income tax deduction for a portion of your gift.
A portion of your annuity payment will be tax-free.
Are you a younger donor? Consider a deferred gift annuity.
Next
Contact us so we can assist you through every step.
*BrightFocus programs are Alzheimer's Disease Research, Macular Degeneration Research and National Glaucoma Research
Additional Information
Disease Toolkit

Experts & Advice

Facts & Data
Don't miss out.
Receive monthly research updates, inspiring stories, and expert advice